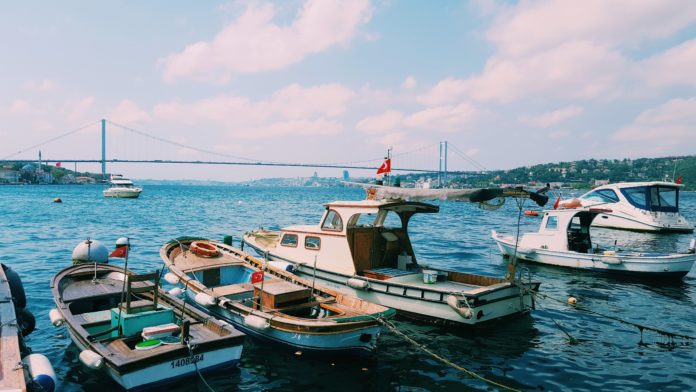 Huge variety in fishing boats for sale and motors provides plenty of choices to lure anglers.
When sportsmen first become drawn into angling (usually just after potty training), they quickly learn that proper gear can mean the difference between sitting on a river or lake shore for hours in solemn boredom, or going home with a stringer of fish. But the pocketbook dictates many equipment decisions. Backwater, blue-collar anglers learn that you don't have to end up in bankruptcy court to find a decent, sturdy, and reliable boat and motor.
Eventually, perhaps as income improves or fishing becomes more important than say, groceries, a fisherman realizes he needs a better boat or bigger motor (thanks to advances in fishing technology)
There is plenty of variety afloat today, with something to fit the pocketbook of the bayou river rat, the corporate attorney and everyone in between. Whether aluminum or fiberglass, deep-V or flatboat, inboard console or outboard steering, pedestal seats or cushions on planks, boat choices are dictated by price, quality and the seriousness of the angler. Here are just a few of the many choices offered today in fishing boats, motors and gear.
Building all-fiberglass fishing boats for sale is a way of life for the Pierce family of Mountain Home, Ark. Bass Cat boats have offered such innovations as recessed trolling-motor wells, lighted interior compartments, in-dash fish flashers, and other ideas now used by other companies.
In 1999, Bass Cat was the first to use a true vinyl ester (VE) resin throughout the structure. This greatly reduces the chances of stress cracks and blistering of the hulls (for details, go to www.resinnavigator.org). Vacuum compression methods have produced stronger hulls. Bass Cat is the only company to use all-fiberglass hulls, stringers, floors, and transoms.
Amazingly, the boats, trailers, seating, wiring harnesses and even the seat embroidery are all made from raw materials at the Bass Cat factory, elsewhere.
Bass Cat's Jaguar model has a 20-foot, 3-inch fiberglass hull and can handle a 175 hp to 285 hp motor.
Smokercraft's Escape and Infinity series of pontoon boats can provide a fishing platform or a cruising craft. Smokercraft also makes several models of deck boats and runabouts.
Bass Cat offers a 20-foot Jaguar, 20-foot Cougar, 19-foot Pantera III, 19-foot Pantera Classic, and 18-foot Sabre.
These top-of-the-line boats offer a myriad of standard and optional features, including fuel tanks up to 52 gallons, dual aerated livewells with timers, sound systems, flush-mount controls, handrails, footrests, rod organizers, security systems, dual steering, lighted storage boxes, and even a sophisticated digital dashboard system that resembles a jet cockpit. Perhaps the Bass Cat's best feature is its transferable lifetime warranty on the hull, transom, floor, and stringers.
Mercury offers a wide array of watercraft engines, from a handy 75-cc, 2.5 horsepower motor to the Pro XB 250 250-horsepower V-6 with enough thrust to make you want to take up bowling instead of fishing. Another Mercury motor line worth considering is its series of jet motors. Jet as in jet-propelled, meaning no propellers to hit stumps or rocks. Jet motors are a consideration if you fish in shallow, stumpy, and rocky backwaters a lot. Come to think of it, that's where the fish are, too. Mercury offers jet motors in 20-, 40-, 65-and 80 horsepower models.
Champion has been building premium fiberglass fishing boats for sale since 1975, and currently offers 14 models.
The Elite Series offers four hull sizes, from 18 feet, 8 inches (the 188 Elite) to the 22-foot, 3-inch 223 Elite. Tournament-ready CX models come in three sizes: the 203 CX, 193 CX, and 187 CX (which again refer to the hull length).
Saltwater anglers typically need a bigger boat to face larger waves and provide a more comfortable day on the water. The Saltwater Series offers the 24 Bay Champ, 21 Bay Champ, and 22 Tunnel Champ. Those who like to fish and water ski can select one of three Fish-N-Ski models: the 21 SX, 190 SX, and 181 SX.
Champion even makes a good all-around fishing boat for sale, the Multi-Species Fishhunter. This 19-foot, 4-inch boat has a deep V-hull and extra-wide 97-inch beam for plenty of room to stretch as well as creating a comfy fishing platform. Dual 26-gallon fuel tanks, dual Lowrance transducers, dual livewells with hydro-aeration, dual bucket seats…two anglers go in comfort on this rig! It will handle 1,600 pounds of cargo and fishermen.
Lowe's Sea Nymph V Series fishing boats are 15 feet long and the standard package includes a 25 hp motor and trailer.
If you spend more time on the water than at home, know most pro bass anglers' current standings, and don't mind a second mortgage on your house to finance a boat for sale, the 223 Elite is Champion's champion model. Can you say 300 horsepower? You'll never be late for a weigh-in again. The livewell holds 27 gallons, so invite the neighbors along.
Fishing boats can take many forms. Some favor the run-and-gun style of a fiberglass boat that can move tournament anglers quickly from rocks to weed beds to flooded trees to the weigh-in docks. Others prefer a big, lazy pontoon boat big enough for the wife, kids, Aunt Edith, and the family dog.
At Smoker Craft®, you can take your pick of these designs.
The Alante series of fiberglass runabouts offers five models from 19 to 21 feet. Standard features include 37-gallon fuel tank, ski ring, boarding ladder, navigational lights, built-in coolers, and plenty of in-floor and bow storage space. A CD player is optional.
The Commander series of deck boats offers the spunk of a runabout with a deck fishing platform. Features include 31- to 60-gallon fuel tanks, portable toilets, built-in aerated livewells, bass seats, built-in coolers, wrap-around couches, and pop-up cleats.
If your idea of fishing is a nice nap possibly interrupted by an occasional tug on a bobber, then you might prefer one of Smoker Craft's 20 models of pontoon boats.
This family-owned, Indiana-based company still makes 'em the old-fashioned way, from high-tech materials, like full-length, 1/2-inch aluminum keels, welded aluminum tube chambers (to stay afloat even with a puncture) and pressure-treated plywood decks with lifetime warranties.
The Fishfinder Series from Lowe features 16-foot aluminum boats for sale with room for a family to fish.
The Paradise series of pontoon boats is for big families or party animals. With room for up to 18 people and motors to 135-horsepower, you may never come home. Sure, you can get options like a galley with stove, pull-out lounges, and a baby-changing station. All feature bimini tops, padded seating, sundecks, and many other comfort items. Fishing doesn't have to be a chore with a boat like this, and if the fish aren't biting, relax and enjoy the ride.
The Serenity, Classic, and Infinity Fish series are aimed at anglers who want to cruise in style. They offer up to 24 feet of space, built-in livewells, lockable rod boxes, four bass seats and 18- to 24-gallon fuel tanks. Bimini tops, carpet, and sound systems are standard. The Infinity Cruise series is intended for multi-use boaters who may fish one week and have a floating cookout the next. These pontoon boats are offered in 18- to 24-foot models, and can be fitted with 50- to 115-horsepower motors as the boat size increases. Two models feature L-group seating with lounge arms, two front couches, convert-a-tables, sundecks, and other creature comforts.
In the heart of the Ozarks, hunting and fishing are legendary. In Lebanon, Mo., Lowe makes high-quality aluminum boats that are known for durability and value.
Lowe offers a variety of jon boats for sale, with riveted or welded hulls; a Stinger series, with welded deep-vee hulls to smooth big-water chop; a Classic Bass series, with a riveted 6-degree modified vee hull for a smoother ride and a stable fishing platform; extra-affordable Fishfinder series with a riveted 6-degree modified vee hull; Fishing Machine series in 16- to 19-foot Sea Nymph designs with a choice of backtroller tiller, side console or twin console and V-Tech hull; and the Angler series of Sea Nymphs, offering affordable models with plenty of options.
The 223 Elite is Champion's flagship model at 22 feet, 3 inches, and comes with a livewell, rod storage, front and rear fishing decks, and a motor from 225 hp to 300 hp.
The Pro Angler 16 from Lund is a nice choice in smaller fishing boats for sale, with livewells, rod compartments, and dual pedestal seats.
Features on some Lowe boat models include dry storage lockers, computer-designed hulls, aluminum casting decks, tinted windshields, 16-ounce marine carpet, lockable rod storage, full instrumentation, aerated baitwells and a variety of motor, trolling motor and fish finder options.
If you frequent any lakes (Suggested Article: New Hogan Lake Fishing) or rivers very often, you'll notice lots of Lund boats. Lund makes a strong case for traditional aluminum boats. The company uses aluminum I-beams placed longitudinally deep in the hull, then tied to transverse stringers in the bow, for exceptional strength. They use rivets, because it's the best system (just look at airplanes and 18-wheelers as proof, the company argues). Twin plates are used only at midship, where the boat takes the most pounding. Two layers across the entire hull would hurt boat performance, Lund argues. They've been making boats for more than 50 years, so they likely have a good case. Lund also is a major sponsor of numerous walleye and other tournaments across the nation.
Lund added a line of 20 jon boats for sale to its offerings in 2002. These are welded hulls, ranging from a little 10-foot NVJR1031 that takes a 3-horsepower motor to a big 20-foot NVJWMV2070SFC model that can take a 115-hp motor. NVJRMV models have modified-V hulls. Hull seams carry a limited lifetime warranty. Lund has 14 other new models. They include the 2150 Baron Magnum, 1950 Tyee and 1850 Tyee in the Sport & Fish Series, the 2025, 1900, 1800 and 1775 Pro-V models in the Tournament Series, the 1700 Angler and Pro Angler 16 in the Sportsman Series, the 1650 Laker in the Legend Series and the 1675 Pro in the Adventure Series.
If you need a big-lake boat, the 2150 Baron Magnum is a monster, with nearly a 22-foot hull, 80-gallon fuel tank, three pedestal seats, lighted livewells, wraparound walk-though windshield, and an outboard up to 225 horsepower.
A nice choice in a smaller fishing boat with a wide profile is the Pro Angler 16. Like most new Lunds, it has the IPS™ (Integrated Power Strake) hull for better maneuverability, in a 16 1/2 -foot length. Lighted, aerated livewells, seven lockable rod and storage compartments, dual pedestal seats, and many other features make this a comfy fishing boat.
Lund offers a total of 32 V-hull designs, including its popular Mr. Pike models with 16- and 17-foot hulls.
New from Ranger Boats is the 185 VS, an 18-foot, 5-inch hull set for a 175-hp motor and 1,365 pounds.
Lund has added a line of 20 aluminum, welded jon boats, ranging from 10 feet to 20 feet, to its extensive fishing fleet.
If you've ever seen a bass tournament or talked to serious bass anglers for more than 15 minutes, you've heard about Ranger® boats. Forrest L. Wood is undoubtedly the Henry Ford of fishing boats for sale, particularly fiberglass-hull bass boats, and his Flippin, Ark., company is still making them with meticulous attention to detail, just as they were 35 years ago when Wood founded the company. They are named for the legendary lawmen, the Texas Rangers.
But here's something you probably didn't know: Ranger also makes aluminum jon boats! There are 12 models in the Cherokee jon boat for sale series, including some that can be outfitted with duck blinds. They range from the JW1448, a 14-footer, to the MV2070DLX, a massive 20-footer that can handle up to eight people or more than 1,000 pounds total. Ranger puts a 20-year warranty on its main hull weld and a 10-year warranty on its support beams, ribs and braces.
The Tracker Pro Team 185 aluminum bass boat comes with a 50-hp motor and trailer.
For value, it is hard to beat the Fisherman series. There are seven models in this fiberglass-hull series, from the 617DVS, a 17 1/2-foot model that can use up to a 150-horsepower motor and float 1,350 pounds of gear and anglers, to the 620T, a big, deep 20-footer that can use up to a 125-hp motor and haul 1,820 pounds of rods, reels, dogs and guys.
The Comanche series of fiberglass-hull fishing boats provides serious anglers with a top-grade boat, but ready for your choice of motors and electronics. They range from the 518DVX, a 19-foot model that can handle up to a 200-horsepower motor and hold 1,400 pounds of cargo and anglers, to the 522SVX, a 22-foot beast that can handle up to a 250-hp motor and 1,600 pounds of gear and crew. All have built-in rod storage, coolers, livewells/baitwells and either single or twin windshields with console steering.
Ardent tournament anglers or well-to-do weekend anglers can choose from nine models in the VS/R series, including four new models. All come outfitted with motors, trolling motors and electronics. They range in size from the R61, a 16-footer that can handle a 90-hp motor and 1,110 pounds of anglers and gear, to the 210 Reata, a family-sized boat at 21 feet that can scoot in front of a 225-hp motor, and handle 1,840 pounds of people and gear. Most in this series are available in single- or double-windshield models. The Reata has an 8-foot center rod holder, while the others have port and starboard rod holders.
The new models include the 175VS, a 17-foot, 5-inch hull that accommodates a 130-hp motor and handles 1,145 pounds; the 185VS, an 18-foot, 5-inch hull set for a 175-hp motor and 1,365 pounds; the 195 Intracoastal, with a 19-foot, 5-inch hull ready for a 200-hp motor and 1,430 pounds; and the 195VS, a 19-foot, 5-inch craft that matches the Intracoastal's other specs, with minor styling differences.
There's a very good reason why Tracker® boats for sale are pegged as the top-selling line of bass-style fishing boats. They are priced right. But these aluminum watercraft are performers, too, especially some of the newer models designed to perform like fiberglass boats, including the Avalanche. Tracker® is part of the Tracker Marine line that includes Sun Tracker® pontoon boats, Nitro® bass and bay boats and Tahoe family sport boats. Tracker has a line of distributors, including the mighty Bass Pro Shops.
The Bass series of Tracker® boats for sale has 10 models, from the new Avalanche to the Panfish 16. They range from $19,000 for the Avalanche to a mere $6,500 for the Panfish. Those prices include a motor and trailer! The Avalanche is made with a formed aluminum process (similar to that used for aircraft construction) and .125-gauge aluminum to create a sculpted, strong hull. It comes with a 115-horsepower Mercury motor, Motorguide®-designed Tracker® LCR and a color-coordinated trailer.
Boats for Sale: Motors
Now that you've found a boat for sale in your price range that matches your interests, you need some power. The trick is getting enough power for efficient operation without overdoing it and getting you in way over your head – literally.
Not so many years ago, outboards were smoky, two-stroke affairs that required at least one mechanic on board at all times and still only worked about half the time.
Today's motors are extremely reliable and efficient. Many are four-stroke designs, meaning that you don't need to mix oil in the gasoline. Most of the remaining two-stroke engines, usually low-powered models, use oil injection: again, no mixing. Properly for gaffing fish we daresay.
Here is a basic peek at the most popular engines on the water. Most anglers will tell you that it is hard to buy a bad outboard motor today.
Yamaha's four-stroke outboard motors get up to 67 miles per gallon of gas, setting a world record.
Outboard Marine Corp., which produced about 30 percent of the 349,000 outboards sold in 2000, filed for Chapter 11 protection from creditors around Christmas 2001. At press time, it appeared that OMC has accepted a joint bid from Bombardier and Genmar to purchase the troubled company for $95 million. Bombardier would get the outboard motor business while Genmar (parent company of Ranger and many other boat brands) would get the boat business.
Evinrude, owned by Bombardier, boasts that its Direct Injection system provides more horsepower and less emissions with a lighter overall weight than typical four-stroke outboards. Its series of 200-, 225- and 250-horsepower V-6 motors get up to 35 percent better fuel economy than other brands, according to the company. Their V-4, two-stroke engines boast a 25 percent increase in fuel economy over similar two-stroke motors, while using 50 percent less oil. These midrange motors are offered in 75-, 90- and 115-horsepower versions. This same Ficht® Ram Injection system is offered on the mid-sized V-6 engines, too, including the 135-, 150- and 175-horsepower models.
Johnson, also owned by Bombardier, still offers a full line of traditional two-stroke motors. They range from 25 to 175 horsepower. Even some of the smaller ones offer electric starters. Some feature Power Trim and Tilt and Digital Sequential Multi-Port fuel injection. This isn't your grandpa's Johnson! Of course, there are some mid-sized and small four-stroke models, too, from a cute little 6-hp model for the duck boat to a 70-hp model with all the bells and whistles. There's also a new line of four-stroke motors ranging from 6 horsepower up to 70 horsepower proper for lift netting.
The OptiMax line of outboards by Mercury ranges from 135 to 225 horsepower.
Sure, you've heard of their motorcycles. But did you know they made outboard motors?
If you are a serious angler, you have. Proving once again that the Japanese build high-quality motors, Yamaha has created several outboard innovations, including the Labyrinth Exhaust system, which quiets the motor even at full throttle. After all, fishing is supposed to be peaceful. Yamaha makes both two- and four-stroke models, as well as jet drives, from 225-horsepower V-6 rocket launchers to the sweet little F4 4-hp model that holds a record for gas mileage (67.27 miles per gallon, according to the Guinness Book of World Records).