Folsom Lake
Long recognized as one of the state's premier bass lakes, Folsom Lake also kicks out its share of quality rainbows and even land locked king salmon. Still fishing from the bank will definitely be a strong option on this suburban lake. Locals recommend using a minnow hooked below the dorsal fin suspended 5 to 6 feet below a bobber. Salmon eggs, marshmallows and crawlers also account for some nice fish. Work the banks near Dike #8, Beal's Point, Doton's Point, the dam area, Brown's Ravine and the south end of the New York Creek Cove.
Fishing
Folsom Lake can be an excellent location for trollers dragging blades and crawlers for early season trout. By late June, bring out the lead core gear. Try to get the crawler down to 30 to 35 feet. Use the lead line with and without attractor blades. Working 6 colors, lead core fans will also find the speedy Shiner to be productive. The Needlefish is equally favored in grasshopper, silver, brass, rainbow trout, shad, bikini and flame with pearl finishes. Triple Teazers, Super Dupers and Kastmaster have also proven effective at Folsom Lake. The dam and the mouth of the South Fork are popular trolling runs. By mid-summer, the trout will be holding at 50 foot depths. Other than bait fished deep, diving planes or downriggers will be the primary way to reach these fish. However, some lake regulars will pull up to 15 colors of lead core line to reach the deeper summer thermocline.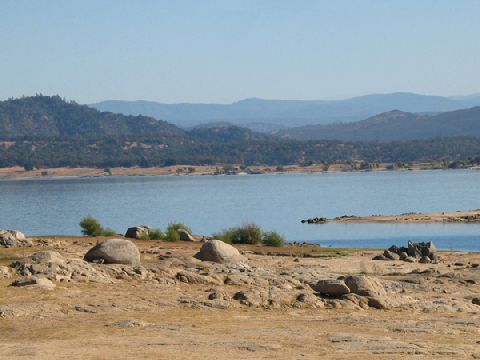 This nearly 12,000 acre lake just out of Sacramento can become very crowded in the summer with extensive traffic. There is virtually no angler or boater pressure during the winter months. Folsom Lake is fully developed, offering several campgrounds, a full-service marina, etc.