In our experience, dry-fly enthusiasts pay much more attention to the choice of flies they use than do wet-fly anglers. And the reasons are fairly evident. The dry-fliers are working with only one single fly fished upstream on the surface of the water' it has to be the right fly, the one on which the trout are feeding, or one which may attract him to snatch.
Related Articles:
The wet fly angler is reasonably careful about the flies he chooses, of course, but we have met some who are fairly successful consistently and they use the same three flies on their leader each time. If asked to offer some very general advice on the subject of wet-fly fishing on rivers, we would say: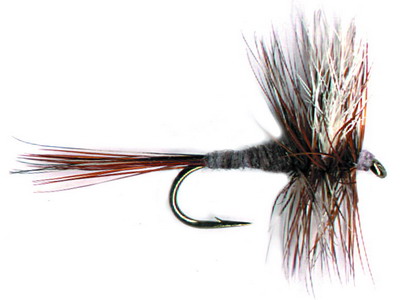 Use lightly dressed flies; those big lushy things you see in tackle shops may be all right in the far north of Britain or in a other countries, but otherwise – not for me.
The spider-type flies do well in a summer.
Use a fly with red in it somewhere as an attractor, such as a Dunkeld or a Greenwell's Glory, a March Brown and a Butcher as a team of flies.
Come down in size as the season changes from spring to summer.
Don't forget that as well as fishing wet-flies downstream, you can also fish them across the current and, in warm weather, even upstream, although you have to raise the rod smartly to keep the leader from dragging.