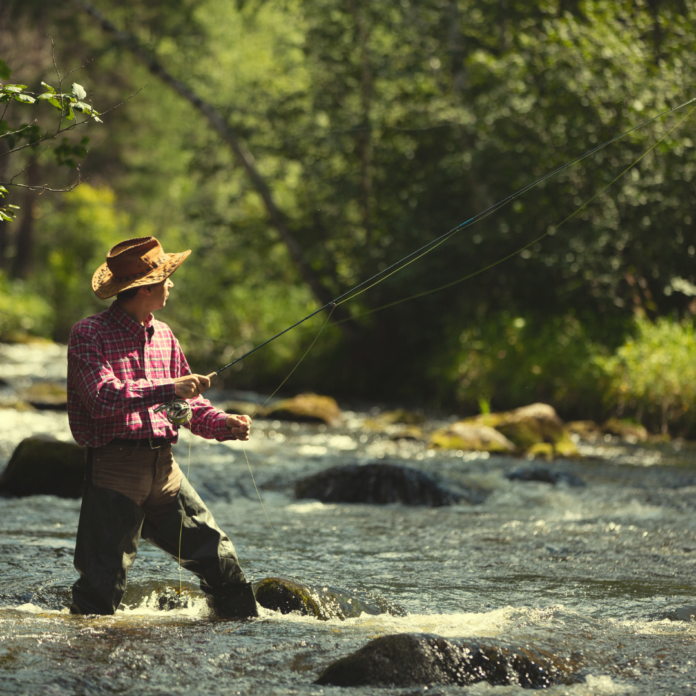 Another type of cast essential to stream and river fly fishers is roll casting in fly fishing, used both to extend line where trees or bushes behind you make a back cast impracticable and to bring an intermediate, a sinking or a sink-tip line to the surface so that it may be lifted into a normal back cast.
The roll cast (roll casting) is simple to perform but can only be practised on water as it relies to a large extent on the surface tension for its successful execution.
Related Articles:
With ten yards or so of line on the water, lift the rod quite slowly to about the 1 o'clock position and tip it away from you by about 5°. There is no hurry in this phase of the cast; the object is to put the rod into a position where the line will hang down in a bow behind it before curving forward into or onto the water.
Now, bang the rod down hard towards the water in front of you with all the force you would use to hammer a nail into a board at waist level.
Initially, it takes a little courage to beat your (possibly new and precious) rod downwards in this way, but you will do it no harm and, assuming you apply enough force, the line should, apparently magically, lift back towards you and then roll out over the water. With a little practice, you should be able to put out ten yards or so of line quite accurately in this way.
Finally, do remember that the keys to good casting are timing, technique and an understanding of the mechanical principles involved, rather than the brute force and ignorance so often demonstrated by self-taught or badly taught anglers.
Remember, too, that good fly casting does not come naturally, especially to those used to throwing things or casting with coarse or sea-fishing rods. Anyone can cast badly, lashing the water to a foam, half-hurling themselves into the river with each forward cast, accumulating a necklace of knots in their leaders as they do so.
Effortless accuracy and delicacy come only with practice.