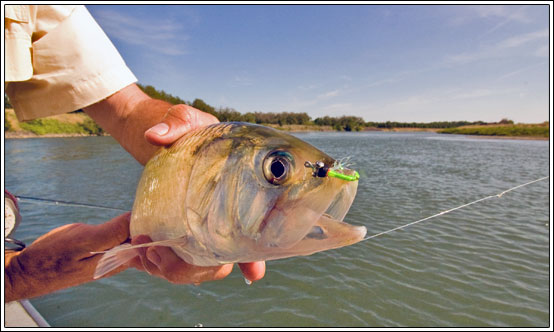 How to Catch Shad
Veteran shad anglers consider this fish the best fighter, pound for pound, of all sport fish in Northern California waters. Shad spawn in the Sacramento River and its tributaries (American, Feather, Yuba) in late spring and early summer. Fishermen usually begin their shad quest in late April or early May. A typical American Shad weighs in at 2 to 5 pounds.
Fishing Techniques
Casting is the predominant technique for taking Shad. Shad strikes very aggressively at small, silver objects that show bright colors such as red, orange, green, white and yellow. Shad are more protective of their territory than hungry (during the spawning period) so they are difficult to hook. They fight savagely, so a hook-up doesn't necessarily result in a fish at hand.
Related Articles:
One Shad fishing technique which is commonly used, particularly at the mouth of the American River, involves fishing from an anchored boat in a relatively strong current, using a spinning or bait casting rod.
A small lead sinker is placed at the end of the line, and a weighted fly is tied on a 24 inch dropper about 18 inches above the sinker. The line is played out until the sinker just clears the bottom. It is necessary for the current to be strong enough to give the fly the proper action.
This method of fishing has so many followers that space to anchor at the mouth of the American River is often at a premium. Shore anglers at the mouth of the American River successfully use spinning gear and a floating plastic bubble attached about three feet above the offering.
You can buy many types of shad lures and flies in Sacramento Valley sporting goods stores. On a weekend during a good run, late arriving shore anglers may find it difficult to locate a place to fish.
Nevertheless, the most popular method of Shad angling in California, and perhaps the most rewarding, is to fish from shore with a fly or spinning rod. The fly rod is used with a fast-sinking line or a shooting head. A tippet with about a 6 pound test breaking strength is desirable since the shad can be quite large.
Some will exceed 5 or 6 pounds. In addition, there is always the possibility of hooking a striped bass or a large steelhead.
Let's assume you have found a likely spot on a river, just below a riffle where the fast water breaks and slows down at the head of a long pool. You wade out into the water and cast across toward the opposite bank, allowing the current to swing your line downstream.
You wait a few moments as the fly at the end of your line makes its way downstream and toward the bank below you. as you are ready to pick up and cast again, you hook your first shad and are in for a delightful surprise.
Before long, on a typical day, you may repeat this experience again and again until you have caught and released or kept a considerable number of fish.
If you use a spinning outfit, the shad fly is tied to the end of the line and a split shot is pinched on from 18 to 24 inches above the fly. Just enough weight is used to enable you to cast easily.
Cast out across the water as you would with a fly rod, but immediately after completing your cast, reel in just enough to prevent the split shot from snagging the bottom. But do use enough weight to keep your offering down. Shad usually follow the contour of the river bottom on their way upstream.
Proven Tackle and Equipment to Catch Chad

Shad fishing means light tackle fishing. Equipment must be light enough and flexible enough to toss small offerings. Anyway, the light tackle makes for more challenge. Spinning, fly fishing and bait casting setups are all used.
Popular lures include Shad Darts, Fly-Fly and T-Killers (in white or yellow with red heads) and 1/16 – 1/8 ounce Crappie Jigs in chartreuse, yellow, orange and white.
Where to Fish to Catch Chad

Good areas are described in the Central Valley River Fishing section. Selected locations are the Yuba River from the mouth upstream to Daguerre Point Dam, the Feather River from the mouth to fish barrier at Oroville, and the American River from the mouth to Nimbus Dam. There is also good shad action along the Russian River.
Cooking and Cleaning
Many anglers release shad because they are so bony. And filleting a shad is no easy task, even after you've seen it done by an expert. The Department of Fish and Game tried a few years ago to encourage the eating of shad.
They did this by publishing a booklet that describes How To Filler A Shad – in 32 Steps! Step 32 concludes, "In a little while, with some patience, you will be able to trim a shad into two boneless fillets in about 15 to 20 minutes."
Shad is mild, quite firm, with a meatlike flavor and a moderate fat level. It is good baked, poached or smoked. Some anglers prefer the shad roe.
Post: How to Catch Shad