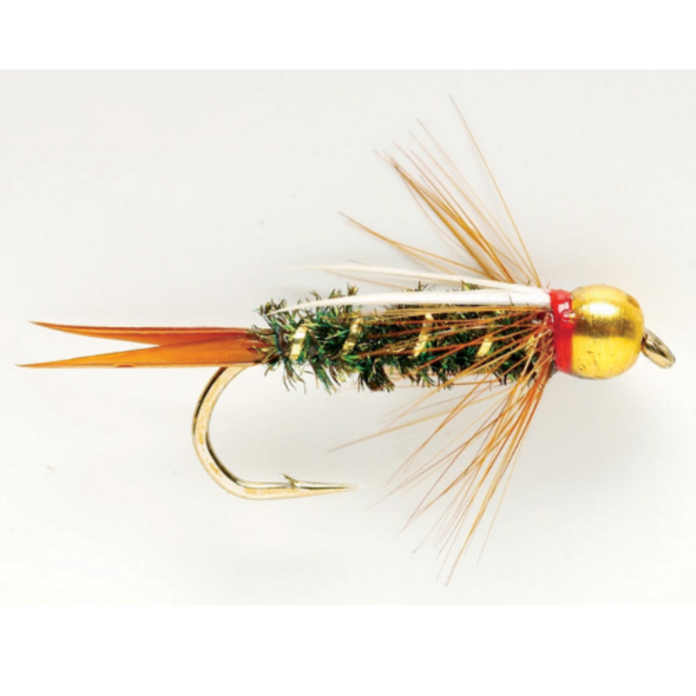 The Prince Nymph Fly
In the last ten years or so, we have caught our biggest fish on a Prince Nymph: some 15-pound browns in Iceland, a 20-pound rainbow on the Patagonian mainland.
Not surprisingly, we are very partial to this pint-sized wonder. As shown in the photo below, it resembles the old-fashioned Lead Wing Coachman and the less old-fashioned Zug Bug.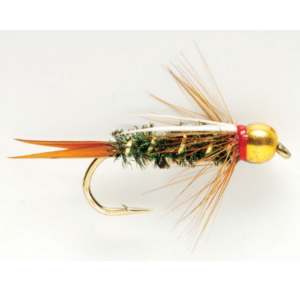 We think trout take it for a mayfly nymph, a hatching caddis, a small stonefly, freshwater shrimp (scuds) — in short, something delicious and irresistible.
Since the day that an enormous brown (27 pounds!) gobbled it at nightfall on the Rio Grande in Tierra del Fuego, we have never gone fishing without The Prince Nymph in our fly box. Size #14.
Related Articles: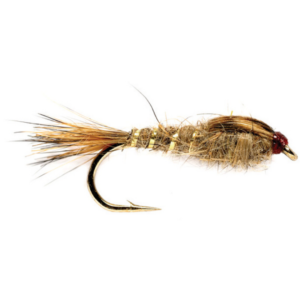 The Gold Ribbed Hare's Ear
The Gold Ribbed Hare's Ear has been an old and constant favorite through the years. Why? Because it catches fish. The Gold Ribbed Hare's Ear, shown above, is a general, impressionistic nymph that picks up flash from gold wire coiled around its body.
The fur used to tie this fly is, as its name suggests, from the ear of a hare. It is gold, brown, white, and black in color, and its texture is stubby and filled with many short hairs (also known as guard hairs) that stick out at all kinds of angles.
To a hairdresser (no pun intended), these short hairs would be thought of as unsightly split ends. To a fish, this unkempt look is very bug-like. Drop this fly in a glass of water and you will see little bubbles form because of the unruly nature of the fur.
This is exactly the kind of bubble a living insect may give off as it rises to the surface and shucks its nymph case. Fishing the Gold Ribbed Hare's Ear with the addition of a shiny metallic bead head that gives it both a jigging action and some more flash.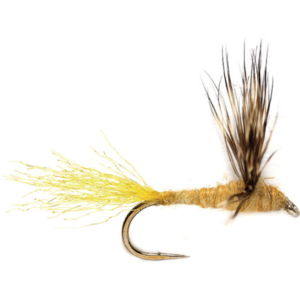 The Comparadun
Hands down, the Comparadun is our favorite dry fly. Al Caucci and Bob Nastasi, two buddies who fished together on the very challenging waters of the West Branch of the Delaware, devised these no-hackle, deer-wing flies so that they would float flush in the surface film. We have found that Comparaduns really score well with highly selective fish.
We especially like them when the little, yellow mayflies (known as Pale Morning Duns) are hatching, which they do with great frequency on the blue-ribbon waters of the Rocky Mountains. The Compara-spinners, which are no-hackle flies with spent deer hair wings (that is, wings that lie flat and to the side, like outriggers) are among the best spinners we know. Size varies depending upon what's happening, insect-wise, on the water.