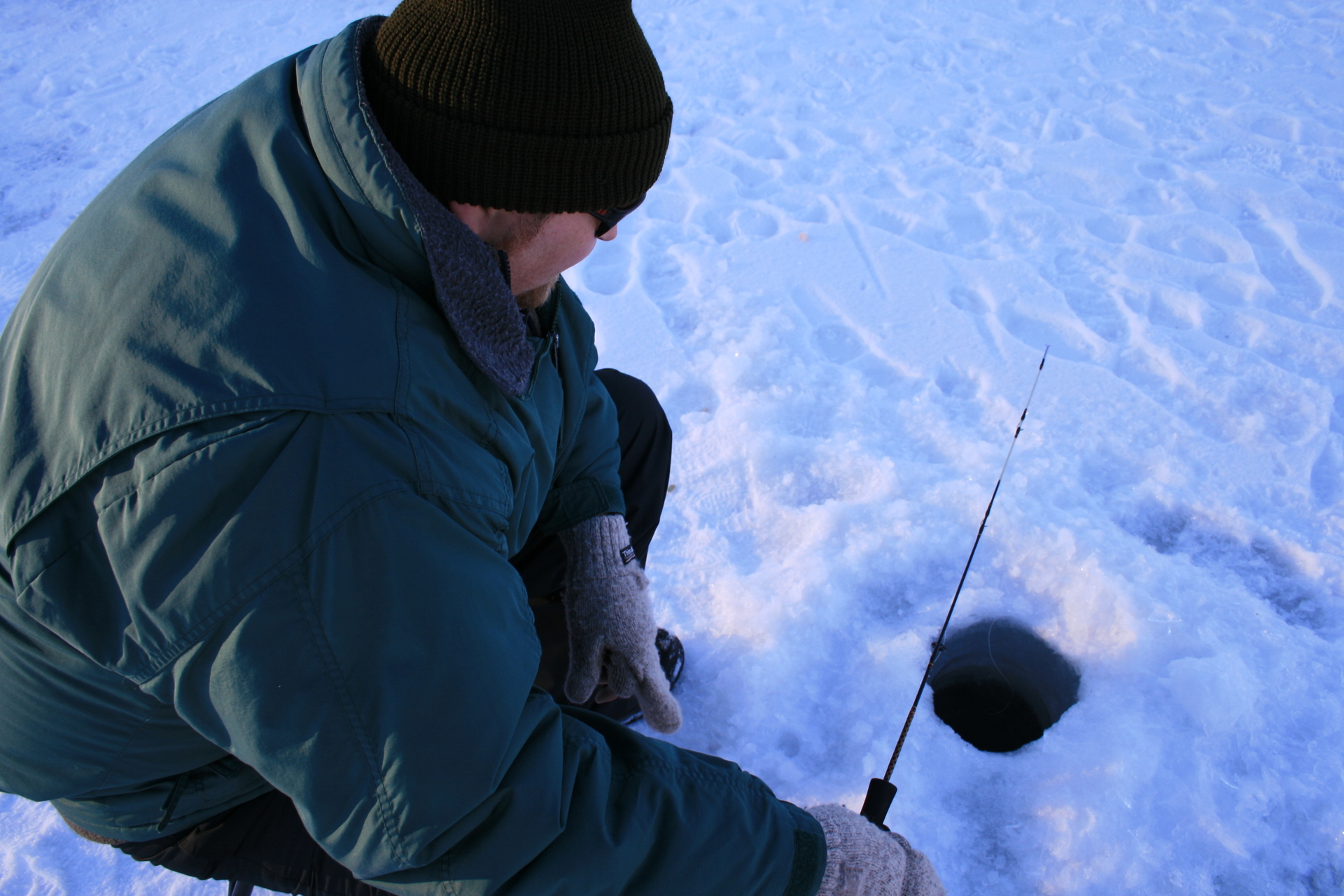 Californians are not quite as sophisticated with their fishing gear as their mid-western cousins. For instance, you won't find too many ice fishing fish finder, fish shacks or vertical ice-jigging rigs on our lakes. Instead, western trouters stick with very basic spinning or spincast outfits spooled wick 4 to 6 pound monofilament.
The Daiwa mini-spincast combos with the scaled-down rods and super ultra-light reels have become very popotar with the ice fishing fraternity. A few anglers will keep it even more basic, resorting to simple hand-line rigs.
Related Articles:
All of the standard popular bait fishing combinations mentioned earlier have application to ice fishing. Salmon eggs, Velveeta cheese, and good ole "garden tackle" (red worms) are favorite fare for trout through the ice.
However, keep in mind that trout under these super cold conditions will indeed be hungry but because their metabolism is slower in the winter, they will need more time to eat the bait. So, let these gentle feeders run a little bit further with the bait than you normally would in warmer months.
Ice Fishing Fish Finder and Compounds
Accomplished ice fishermen have also discovered the benefits of fish attracting compounds and using ice fishing fish finder when they are available. These compounds will add some "scent" to all the baits offered through the ice.
One little tip is to use either a marshmallow, a ball of Velveeta cheese, or a firm salmon egg (firm to avoid having the trout "suck" them off the hook). Then, work some of Berkley's Moldable Strike in the trout scent around the remaining exposed portion of the hook. This bait combination really lays a "chum slick" under the ice for these touchy trout.
Other Tricks
Another trick that ice fishermen employ to discern very subtle bites is to use a small plastic bobber as a strike indicator. After you leave the bait at the desired depth, snap the little float onto the monofilament right at the surface water line. The bobber will signal even the faintest of strikes and is easy to monitor visually.
For the more adventuresome, there are a variety of popular lures that can be used under these chilly conditions. Action is critical here. The angler must impart a lot of vertical jigging to the lure to make it palatable to these fish.
Narrow jigging spoons such as the Hopkins, Haddock Jig'n Spoon, and Swedish Pimple are proven winners. More traditional casting spoons like the Kast master. Krocadile, and Phoebe will also perform quite well in 1-1/8 to 1-1/2 ounce versions.
Naturally, anticipate that a majority of strikes will occur on the "drop" as you initially let the spoon sink to the bottom or on the "fall" after the spoon is lifted off the bottom and is fluttering down again.
Rapala makes a specially designed minnow that is suitable for ice fishing in their "W" series of baits. This unique lure swims in a circle as it is vertically jigged up and down, making it very tantalizing for bigger trout.
This has been a popular bait in the North and Midwest and is receiving more recognition in California ice fishing circles of late.
Other interesting baits to consider for ice fishing that are often overlooked are small jigs. Micro-jigs, Scroungers. Baby Gitzits, Haddock Twin Tails, Baby Kreepy Krawlers, and marabou-feathered crappie jigs are all good possibilities.
Although most of these hires were designed for panfish or bass, they will often produce sensational catches of trout through the ice.
The key is to team them with light, 4 to 6 monofilament line.
Mix your Presentations
It is as important to mix your presentations while ice fishing, after finding them through your ice fishing finder, as when trouting from the bank or from a boat. It really helps to vary the depth of the bait or lure you select, finding it from top to bottom. Most wintertime trout in California will be taken in 4 to 25 feet of water. If anything, novice ice fishermen tend to fish way too deep for these trout.
A very rough rule of thumb to observe is to fish the upper 10 feet of depth On sunny days. On colder, overcast days, keep your offerings near the bottom where warmer water will be found.
Remember that darker, muddy bottoms absorb and retain more radiant heat, making the good trout-holding terrain in the winter. Lighter colored, sandy bottoms are better spots after ice out. To make things easier for you, it is suggested to use ice fishing fish finder.
Summary
In sum, it is best to work the bait or lure at different levels, starting at the bottom. Then, keep suspending it a few feet higher on subsequent drops until the proper strike zone is determined. To better your success, it is also recommended to use your ice fishing fish finder. Also, in this icy, crystal clear water, the trout will be able to see your bait or lures from considerable distances. Thus, it is essential that you minimize your movement.
Related: