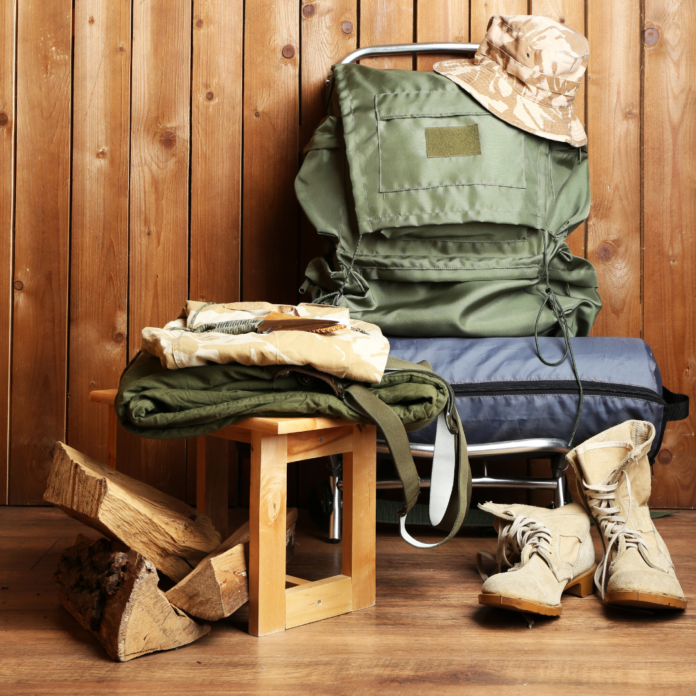 Hunting Clothes
As for someone who has been quite a successful deer hunter for the past thirty-one years (shooting 32 deer) he can take the liberty of recommending just what to wear.
Shoes: One pair 12″ Leather Top Rubbers. Also take along a pair of 6 1/2″ Moccasins to wear dry days on the ridges before snow comes.
Stockings: Two pairs knee-length heavy woolen and two pairs light woolen.
Underwear: Two union suits same as worn at home.
Related Articles:
L.L. Bean still sells union suits, but most people buy them for campwear. As a base layer, merino wool is superior to cotton in cold, damp weather.
Pants: One pair medium weight all wool with knit or zipper bottom. Also wear from home your heaviest business suit.
Coat: One medium weight, brilliant scarlet with game pocket in back.
Shirt: Two medium weight, all wool; one to be red in case you go out to drag in deer without coat.
Cap: Lightweight scarlet with earlaps that can be worn up or down.
Gloves: One pair lightweight red woolen or red cotton.
Handkerchiefs: Six red bandanas. Do not use white in woods. We also recommend colored toilet paper.
Miscellaneous: One pair heavy Suspenders, one heavy Belt, one very light weight Sweater or Wind Breaker, one Silk Rain Shirt, one Pajama Suit, two Towels, a few Toilet Articles, and one pair Slippers. Coming from a long hunt change to slippers and light stockings. This is important to keep feet in best condition.
L.L. would have embraced today's high-performance gear. He never shied away from innovation. He introduced the Maine Hunting Shoe in 1912, after all, and it was the best footwear available at the time: rubber bottom, leather upper, and a snow seal. It kept your feet warm and dry.
For deer hunting we believe it is very important to wear scarlet coat and cap, but if you don't care to go to the expense, buy a cheap Coldfire rayon red vest to wear over your coat to avoid accidental shooting.
Some old hunters do not wear red because they believe that it frightens deer. This is a mistaken idea.
We have always worn red and have proof that it does not frighten deer. Do not take unnecessary chances with your life.
These recommendations apply only where car or boat takes you to camp door. If camp is located where you are obliged to walk or canoe quite a distance, we recommend that you wear hunting clothes from home. Also eliminate some other articles that you feel you can get along without.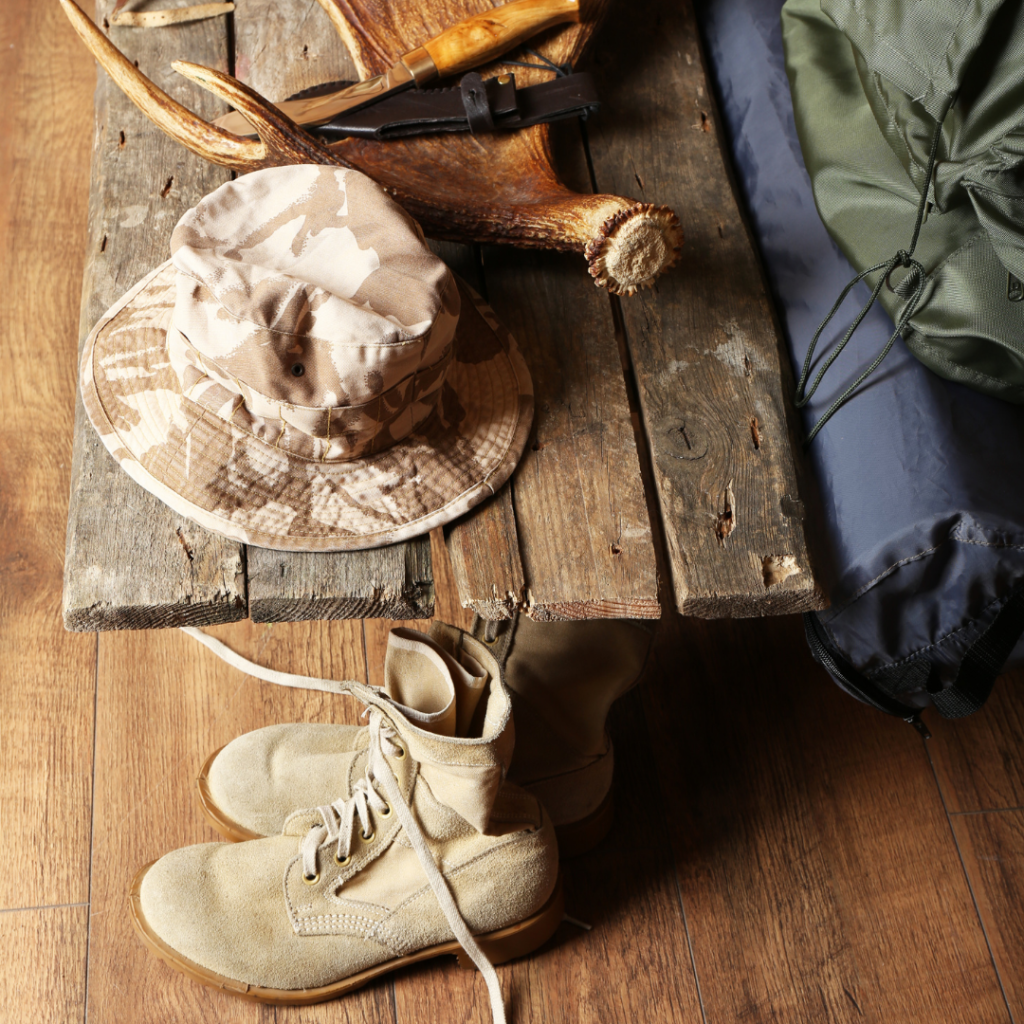 Advances in Outdoor Apparel
Thanks to advances in fabrics, today's hunter is much more comfortable than those in the day. That translates into greater success because the longer you can sit still and quiet, the more successful you'll be. Here are our suggestions for today's hunter:
Shoes: Two pairs, one insulated, one not. We like the Maine Hunting Shoe when we bow hunt because it gives us tactile feedback. Tall rubber boots are also good. The taller the boot, the better it conceals your scent.
Socks: Heavy wool socks, wool hiking socks, or synthetic-wool blend socks. We wear one of these or a combination, depending on where we are. They insulate and wick away moisture, so our feet stay comfortable.
Underwear: Merino wool base layer. Merino wool is super comfortable, wicks moisture, and doesn't carry scent. If it's early archery season, we won't wear a base layer.
Pants: Pants made from a light, breathable synthetic material. Northweave is rugged, and it won't hold moisture like cotton will; it's as close as you can get without being actual cotton. If it's extremely cold, we wear my wool hunting pants with a waterproof/breathable membrane to block the wind.
Shirt: Depending on the season, we may add a sweater, a light synthetic vest, and a windproof layer on top.
Cap and Vest: Blaze orange. You may also want a wool cap and a windproof balaclava.
Miscellaneous: Comfortable slippers. The first thing you want to do when you come into a lodge is take off your boots and put on your slippers so you don't track the outdoors inside.