Location: is about 65 miles north of San Fransisco and about 50 miles west of Sacramento.
Size: This is a big lake. It's 25 miles long and 1 to 3 miles wide. There are 168 miles of shoreline. Maximum depth is 275 feet.
Species: Rainbow and brown trout, largemouth and smallmouth bass, crappie, bluegill and catfish.
Related Articles: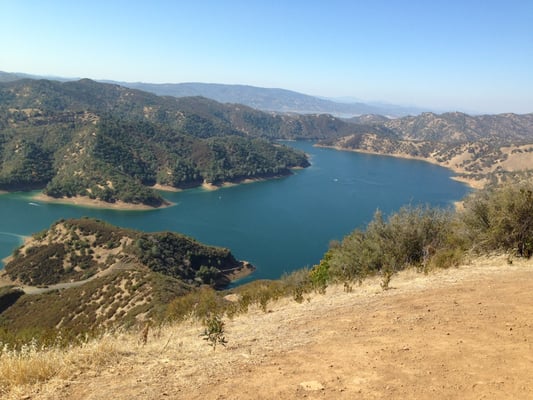 Lake Berryessa Fishing and Camping
Facilities and Campgrounds: There are a number of facilities at Berryessa. Most offer a complete range of services including camping, launching, marinas, stores, boat rental, restaurants, etc. Here is a list with phone numbers and map key letters. There is a free public launch ramp at Capell Cove.
 
A Putah Creek Park (707) 966-2116
B Rancho Monticello (707) 966-2216
C Berryessa Marina Resort (707) 966-2161
D Spanish Flat Resort (707) 966-2101
E Steel Park Resort (707) 966-2123
F South Shore Resort (707) 966-2172
G Markley Cove Resort (707) 966-2134
Boating: All boating is permitted. Launching and marinas are at resorts listed above.
Information: Lake Berryessa Chamber of Commerce, P.O. Box 9164, Spanish Flat Station, Napa, CA 94558, Bureau of Reclamation (lake management) Visitors Information, (707) 966-2111.