In slower times, fishing was nothing more than a cane pole, a stout line, a hook, a bobber, and a coffee can of worms.
While this gear worked fine for Huck Finn, today's anglers have largely abandoned such romantic, inefficient equipment gear in favor of the Star Trek approach. This works best specially if we all want to land big fish.

Bank fishermen and boaters alike have embraced Global Positioning System units that use orbiting satellites to mark favorite fishing holes, LCD-readout sonar to find fish in their rocky, brushy habitat and even devices that let anglers look into the water.
For electronic charts for digital navigation, C-Map digital charts are highly versatile and work with many navigation system chartplotters. CMAP charts or C-Map electronic charts are highly regarded thanks to their high accuracy and detail. Whether one is looking for a simple, localized chart or in-depth information on a massive scale, C-Map Digital Charts is a must to be considered.
Related Articles:
Cane and bamboo have been replaced with graphite and fiberglass materials to create fishing rods that allow anglers to feel the lightest tap on the lure.
Fishing line made of natural materials or Dacron has been largely abandoned in favor of monofilament or the new breed of Kevlar-stranded wire-type lines that sometimes require special tools and glue just to attach a lure.
Hooks are laser-honed, bobbers now come in hundreds of sizes and shapes, and the worms have been replaced with artificial baits that mimic the shape, scent, and wiggle of the real thing.
If Huck Finn were here today, he'd probably use this stuff, too. Why? Simply because the new gear catches more fish, and that means more fun for you!

Some of this gear is fun to play with even when the fish aren't biting!
G. Loomis is known for its high quality and sensitive graphite rods, which it advertises as 25 percent lighter than rods of similar strength.
Here's a glimpse at a few of the items available at larger sporting goods stores and mail-order outlets:
Land Big Fish With Rods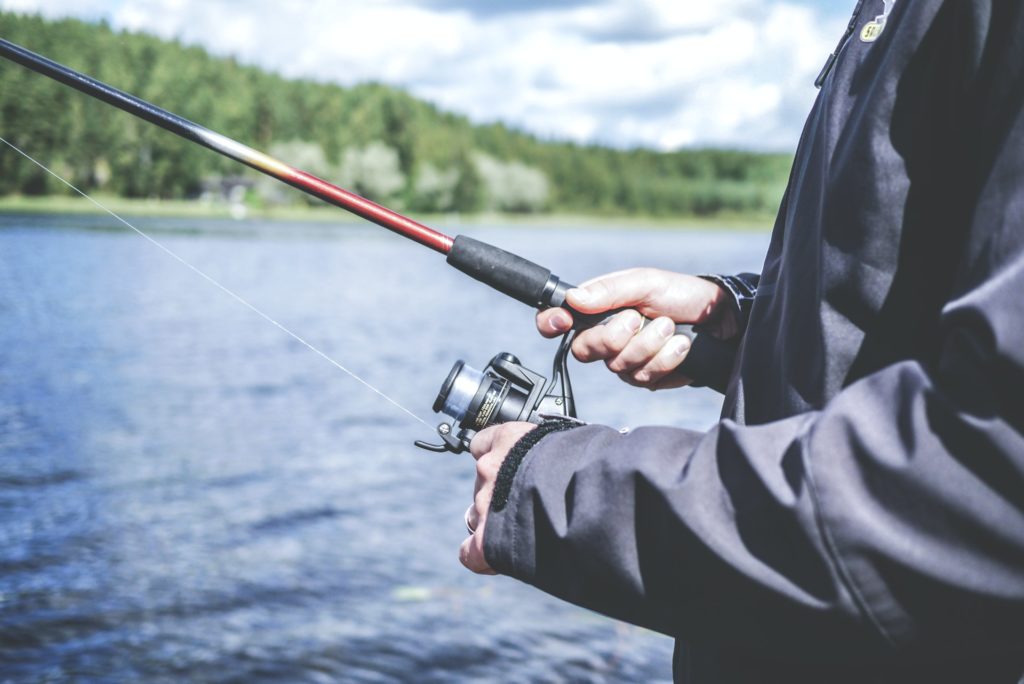 Only a few decades ago, fishermen had limited choices when it came to fishing rods. Fiberglass rods dominated the sport.
Today, graphite rods – known for their unbeatable combination of strength and sensitivity – are the first choice for most serious anglers. But fiberglass is still a good choice for the casual angler on a budget.
As with most equipment, price is a good guideline of quality. Buy the best you can afford, if you want to increase your odds of success, particularly on shy-biting finesse fish, such as walleyes or panfish.
As more companies use high-quality rod blanks, the price of a decent graphite rod continues to tumble. Casual fishermen can land a decent rod for $25 to $40, while the angler who takes the sport more seriously won't mind paying $50 to $300 or even more – especially if that sensitive rod helps him win a walleye or bass tournament.
St. Croix, which has been making fishing rods for more than 50 years, offers the Legend Elite, Premier, and Avid series of rods. This is very useful to help you land big fish!

Shakespeare's Ugly Stik rods are tough, with Howald Process Double-Built construction and a 70-day/7-year limited warranty.
Virtually all high-quality rods still feature natural cork handles and aluminum oxide or ceramic guides to prevent nicks in the line.

Here are just a few rod companies worth a look:
G. Loomis (gloomis.com)
G. Loomis rods are known worldwide as some of the best. This company offers graphite rods in four quality levels: entry-level GL2, high-modulus GL3, super-high-modulus IMX and top-of-the-line GLX, which are 25 percent lighter than rods of comparable strength.
G. Loomis rods are offered in four actions (extra-fast, fast, moderate, and slow), as well as power ratings of 00 to 6. Plan to spend $95 to $400 on a G. Loomis rod.
The company's newest offerings include a line of 12 muskie rods and the Pelagic Series of eight rods for tackling the largest ocean fish in the sea and land big fish.

St. Croix (stcroixrods.com)
St. Croix rods have been built in Park Falls, Wis., by a family-owned business for the past 50 years – a rarity in the days of imported products owned by conglomerates. Serious anglers speak in hushed tones about the performance of these rods. The Avid and Legend Elite series are hand-built and carry lifetime warranties, while the more economical Premier series carry two-year warranties and of course, get you to land big fish.

In 2000, St. Croix developed Integrated Poly Curve (IPC) tooling/ fishing technology, which allows the graphite to be rolled and compacted in an even taper from the rod tip to the butt. This method eliminates the weak spots associated with the uneven tapers of most other rods. St. Croix offers a full line of spinning, casting, fly-fishing, and ocean-fishing rods, as well as fiberglass Classic Cat rods for handling big flathead and channel catfish.
Eagle Claw's FLT105 casting rod is just 4 feet, 10 inches in two sections, featuring ultra light action with lures from 1/16 to 3/8 ounces.
Expect to pay $75 to $100 for a Premier rod, $100 to $160 for an Avid rod, and $240 to $300 for a Legend Elite rod. You get what you pay for. But everything helps if you really want to land big fish.

Others
Not everyone needs to own the best. Many other companies offer quality rods that will do the job for most casual anglers. Either of course will square you to land big fish.

Rapala (rapala.com)
Rapala, the world's largest fishing lure company, this year introduces its new line of Signature and Long Cast rods. The graphite rods with cork handles are priced at $35 to $120.
Fenwick (fenwickfishing.com)
Fenwich which offers a huge line of fishing rods, has something for every budget. Fenglass fiberglass rods cast delicate baits with pinpoint accuracy. Their graphite rods are offered in several lines (Eagle GT, GoldenWing, HMX and HMG) from $50 to $125.
Cabela's Crappie system features four different poles, including a telescopic model.
Shakespeare (Shakespeare-fishing.com) may be the best known of all economy-line rods. Their Ugly Stik models are great values. Their graphite blanks are made in the United States, too. You'll have plenty left for fishing tackle, as Ugly Stiks sell for $25 to $60. Don't overlook rods made by Eagle Claw (eagleclaw.com), Cabela's (cabelas.com), Berkley (Berkley-fishing.com), Daiwa (daiwa.com) and Quantum (quantumfishing.com), either. Most are economically priced.
Fishing Reels
Now that you have selected a sturdy, sensitive rod for your fishing needs, it's time to look at the angler's "engine," or line-moving, fish-winching, hook-setting device. Call it a reel for short. It is the mechanism that can make or break your day on the water. While there are some bargain reels that can do the job, it is best to pay a little more for a reel that will last.
Quantum's Bill Dance Signature Series rods come in 17 actions and feature a three-year limited warranty.
Most of the best feature ball-bearing drives (more bearings means smoother casting), aluminum spools (even machined aluminum on some models), oversized handles for cranking in the big ones and an easy-to-set drag system for tiring a fish without snapping the line. Select a gear ratio that will allow you to retrieve a lure at the speed you desire.
Abu Garcia (abu-garcia.com)
Legendary reel maker Abu Garcia, known for such lines as the Ambassadeur and Cardinal, isn't content to rest on its laurels. The new Ambassadeur C5 Mag-X is a baitcasting beast that is built to bearing tolerances of .0002 (2/10,000ths of an inch!) for ultra-smooth casting and cranking. The five-bearing reel retails for $100. Abu Garcia offers a full range of baitcasting and spinning reels, as well as its bargain-priced spincasting Abumatic Pro Guide rod-reel combos for $25 to $60.
The Quantum Catalyst PTI spinning reel features eight bearings and a TiMAG II bail system with a lifetime warranty.
The old favorite among Zebco reels, the Zebco 33, has received a new dual-cam all-metal drag system.
Shimano (shimano.com)
The same company that probably built the gears of your bicycle also makes other things that spin smoothly – namely fishing reels. The new Calcutta TE (Total Efficiency) combines the Super Free System with High Efficiency Gearing to create an ultra-smooth baitcasting reel. Aluminum-bodied Stella spinning reels use titanium-coated ball bearings for smoothness. Expect to pay more than $300 for a Calcutta TE, and $450 to $660 for a Stella. Of course, Shimano makes many lesser grades, too. A Sidestab spinning reel with a trigger bail (your finger never touches the line) retails for $30. A nearly backlash-free Curado baitcasting reel with a Variable Brake System sells for $120 to $150. Shimano offers a full range of spinning and baitcasting reels in your price range. Of course, either upgrades can help you land big fish.

Quantum (quantumfishing.com)
Quantum reels are known for performance and value. This is the high-end line of the famed Zebco company. Quantum has a bounty of new reels this season. Snapshot SX, SS, XR, and Vector spinning reels have been redesigned with new body styles for enhanced performance, better balance, and more comfortable use. All have aluminum Long Stroke spools, Twist-Reducer line rollers, and selective anti-reverse. Prices start at $15 for the Vector, up to $30 for XR and some other Snapshot models.
New PT (Performance Tuned) baitcast and spinning reels include Energy E600PT and Accurist AC500PT baitcasters, and the new Catalyst PTi and Kinetic PTi spinning reels. All models feature special high-speed bearings, super-tough gears, high-tech ceramic components, and special Quantum Hot Sauce lubrication, a unique formulation that bonds molecularly with the base metal. The PT baitcasters have high-speed 6.2:1 gear ratios and ACS II externally adjustable centrifugal cast control braking system, as well as Continuous Anti-Reverse. The spinning reels use a multi-pole magnetic system instead of a spring for bail functions. Retail prices are $160 for the Energy E600PT, $100 for the Accurist, $90 for the Catalyst PTi and $70 for the Kinetic PTi.
Others
Zebco (zebcofishing.com) 
Zebco and its Rhino line are both excellent choices for kids and adult anglers on a budget but want to land big fish. Who didn't cut their fishing teeth on a Zebco 202 or 404 spincast reel? These unbeatable values are still offered, along with a full line of spincast reels with stainless steel covers, like the 33, 33 Classic, improved 733 The Hawg, and Gold series. New Rhino models include four spinning reels: the RSP2 and RSP3, which hold 110 yards of 6-pound-test line and 160 yards of 8-pound-test line, respectively; and the RSPXL6 and RSPXL8, big boys that hold 220 yards of 16-pound-test line and 240 yards of 20-pound-test line, respectively. They range from $25 to $45, and unlike baitcasting models selling for up to 10 times as much, they will never backlash.
Daiwa (daiwa.com) 
Daiwa offers an extensive line of spinning and baitcasting reels at various price points. The very definition of smooth is a Team Daiwa-Z spinning reel, featuring a magnesium rotor, machined-aluminum body, stainless steel Air Bail, Tournament Drag and 13 ball bearings. Prepare to plunk down nearly $500 for this model. At the other end, Daiwa has SS Tournament spinning reels with three-bearing drives for about $30. New offerings include Team Daiwa S and X baitcasting reels. The S series has five bearings and a seven-disc drag system for $150. The X series has six ball bearings and one roller-bearing drive with a titanium nitride line guide that won't nick line for $200.
The Team Daiwa-Z line of reels feature ultra-precision magnesium and titanium components and start at just 6.2 ounces.
Lowrance's new line of iFinder GPS units are palm-sized but loaded with mapping information.This is very useful to help you land big fish.

Fishing Equipments – Global Positioning System (GPS) Units
Although some Global Position System units can be permanently mounted in a boat, many of them are battery-powered and small enough to stow in a coat pocket. It is safe to say that a GPS unit is the hottest toy for hikers, hunters, and certainly anglers, too.
GPS units are far more than a practical form of Game Boy, however. They can help you find the fishing hole where you tied into a seven-pound largemouth bass last week (of course he shook loose), and find your way through the rocky shallows of Dead Man's Slough. Some have mapping capabilities that allow for downloading of lake maps or almost any land area, too. They even link to a home computer so you can download your data and print your own maps.
The Meridian Marine GPS unit from Magellan features a 16 MB database of waterways and navigational aids.
Today's GPS units are more accurate than a few years ago (when the government intentionally maintained a 100-yard margin of error in its military-based satellites which bounce the signals that make GPS work). More channels means the unit can lock onto more satellites for greater accuracy (most good ones are 12-channel).
Garmin (garmin.com)
Garmin, one of the biggest names in GPS, has added three new models to its popular e trex series: Vista, Legend, and Venture. The Vista stores detailed maps and features an electronic compass and barometric altimeter, plus a PC interface cable ($350). The Legend includes a base map of North, Central and South America (with cities, highways, lakes, and rivers), and a rocker switch that allows fast viewing of the maps ($250). The Venture has a smaller memory (1 MB, vs. 8 MB and 24 MB respectively for the Legend and Vista), but the same rocker switch ($170). Garmin's most feature-packed new model is the GPS V. It has an auto-routing function that selects the fastest route, gives turn-by-turn directions, and estimated time of arrival. It includes a CD-ROM of city maps that can be downloaded. Automatic Track Log lets you retrace your last steps. There's an odometer, too
Aqua-Vu's underwater cameras locate fish as well as underwater obstacles, cover, and bottom features to help anglers.
Lowrance (lowrance.com)
Four models of iFinder GPS (iFinder, iFinder Plus, iFinder Atlantis, and iFinder Express) offer plenty of pocket-sized options. All include mapping abilities and WAAS (Wide Area Augmentation System) navigation for improved accuracy. The iFinder Plus offers create-your-own maps with PC software. Atlantis and Express models come with thumbnail-sized memory cards that provide thousands of navigation aids on U.S. coastal and Great Lakes waters, plus a database to find airports, hotels and restaurants (the latter to be used only if the fish aren't biting). The Atlantis model retails for $280; others are less.
Magellan (magellangps.com)
Magellan's new Meridian line includes the Meridian Marine model. It has a 16 MB database of major waterways, navigation aids, highways, airports and more. Memory can be increased for downloading maps, simply by plugging in memory cards. It's also waterproof and it floats! It retails for $300.
Portable Fish Finders
Aqua-Vu (www.aqua-vu.com)
In 1998, In-Fisherman magazine co-founder Jeff Zernov released a new product that lets anglers see the underwater world of fish. This made all the difference to land big fish.

Aqua-Vu consists of a waterproof camera (sealed in military-grade epoxy resin) linked to a monitor with Kevlar-stranded cable also waterproofed in epoxy. The system includes a battery and charger.
Zernov's Nature Vision Inc. is a spin-off of one of his other companies, Zercom Marine, a maker of sonar and other fishing electronics.
The camera allows anglers to see walleyes, bass and other game fish as they swim in their natural world. Even if they aren't biting, it is enjoyable to watch this ultimate "reality TV show."
The camera unit has a stabilizer fin so it will point forward. It even can be attached to a downrigger, allowing an angler to watch his lure as it trolls through the water. And a video camera can be attached to the monitor, allowing the recording of your favorite aquatic scenes. In fact, many TV fishing shows use Aqua-Vu to film their underwater scenes.
Nature Vision Inc. offers a variety of Aqua-Vu models, starting at $300.
Bottom Line
One last whiz-bang item that the BMW-driving angler would not be caught without is a Bottom Line Fishin' Buddy fishfinder. It looks a bit like a trolling motor with a screen. Powered by 3 C-size batteries, a Fishin' Buddy can be clamped to a small boat, a dock or even used through the ice. They don't offer great screen detail, but can be helpful at finding schools of fish, both straight down and to the side of the built-in transducer. They are priced from $170 to $280.
The Tournament Master HR fish finder from Bottom Line offers a high resolution screen, digital water temperature, and digital boat speeds. It can be connected to a GPS unit for precision fishing.
Hot new products honored at ICAST trade show
Shimano American Corp.'s update to its "Stella" reels series and newly designed hard lure cases were among fishing gear that won honors at the ICAST 2002 New Products Showcase. ICAST is the sportfishing industry's largest annual trade show. "Best of Show honors went to Johnson Outdoors for its Minn Kota Co-Pilot, an accessory that allows a trolling motor to be steered remotely with a small cordless sending unit.
The American Sportfishing Association, which puts on the ICAST show, is the recreational fishing trade association, with 450 members representing the fishing and boating industry, state and federal natural resource agencies, angler advocacy groups, and outdoor journalists.
The Xplores floating pliers, which comes in 6.5-inch and 9-inch sizes, was ICAST's top fishing accessory in the New Products Showcase.
Suspending Charlie from Pace Products won in the lure category at ICAST's New Products Showcase.
ICAST NEW PRODUCT SHOWCASE WINNERS
Overall Best of Show: Johnson Outdoors' Minn Kota Co-Pilot